COTY AWARD WINNER - FIRST PLACE, BUXMONT CHAPTER OF NARI
CATEGORY OF "ENTIRE HOUSE RENOVATIONS OVER $1,000,000"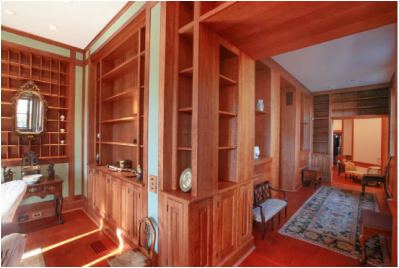 The owner was interested in designing a primary residence that would retain and refurbish the earlier portions of the building while replacing the rear structure with a three-story stone and shingled addition. The goal was to have the finished project fit into the existing architecture and historical accuracy of the community by having the building's roof forms, materials, and window take ideas from the neighboring houses.
Along with fitting in with the surrounding area, the owner also wanted specific details that would accommodate his lifestyle and interests. While he wanted the comfort of a turn-of-the-century design with the luxuries of modern day life, he also needed two things to make his dream home complete - display areas for his antique collection and dedicated space to comfortably house and entertain his guests.
After conversation, historical research and planning, we were set to restore and revamp this jewel of a building.
Highlights of the Transformation included:
Keeping the original stone building from 1912 and also the 1920's front addition.
Removal of a 1950's addition in order to allow for a full basement, which was replaced with an 11,000 square foot addition.
Constructing a roof comprised of slate and wood shingles that blends perfectly into the historical essence of Chestnut Hill.
Developing an exterior with a shingle style addition using reclaimed stone at the first floor that fits elegantly with the existing building.
Gas lanterns added throughout to give the feel of hand lit lanterns while allowing easy operation through standard light switches from the interior.
All interior molding was hand selected by the owner with help from Heacock Builders in order to tie into the existing building.
All the floors are accessed by a grand stairway and a private elevator.
Custom built shelves and bookcases specifically designed to hold special antiques of the owner.
Kitchen and Butler Pantry equipped with industrial grade appliances, custom-built cabinets, soapstone counters with a handcrafted tile backsplash and sinks designed for entertaining.
Kitchen cabinets designed to fit into the historical accuracy of the time with blown glass, butt hinges and decorative pulls. The doors are flat panel with the glass bead profile and are hand painted to give the original feel of a 19th century home. The counters are soapstone with a handcrafted tile backsplash.
Working with architectural plans, detailed research and the owner's vision, Heacock Builders was able to exceed expectations, bringing new beauty to a jewel on the main line of Chestnut Hill. To see more about the new home, please view the entire project by clicking here.